Hello friends,
This month we would like to celebrate and shine a light on Joanita Anena.
Joanita Anena is a 24 year old Human Resources Assistant, member of the Uganda Unites' National Committee and and has volunteered with Uganda Unites for 4 years. She recently founded a foundation called the Adokorach Foundation to help underprivileged children access education.
We sat down with Joanita to learn about her experience with Uganda Unites and how this has inspired her to address the challenges in her community.
From the time Joanita Anena joined Uganda Unites as a volunteer in 2018, her life has never been the same. Anena joined Uganda Unites to complete her credits for her schoolwork as a requirement by her University; she was required to complete a minimum of 200 hours of community work with an established organization, whose primary work involved social and community work. Among the different roles Anena embraced with Uganda Unites, the role of Communications' Specialist was where she lasted the longest. In this role, she was in charge of, but not limited to, managing Uganda Unites' social media pages. She was in charge of using the platforms to communicate the message of unity and non violence to the more than 2.5 million youth social media users.
Anena says that Uganda Unites showed her how much change she can impact in the world. "It showed me that it doesn't matter where we come from tribe, color, social background. We are all human beings who deserve access to basic life needs."
While at Nkozi University, Anena recalls, on several occasions, being stopped by children in the neighborhood to ask for money for school, or for help with their school work. She remembers being saddened by the conditions these kids found themselves in. "These kids didn't even have shoes; they were being sent away from school and denied an education because their parents couldn't raise UGX 60,000 (USD 18) a term for school fees. It broke my heart."
Volunteer
To Anena, education is a big deal. She says, "education is important because it opens up the world to you. You gain qualifications and learn life skills. You also get to meet other students from different places who help you grow. Education can also help you fulfil your life dreams and ambitions and it gives you the confidence to chase them." Anena was going to stop at nothing to see to it that these children could at least have a glimpse of that in their future.
So she paid the headmaster of the children's' school a visit, and has never looked back. She is currently supporting five (5) children through the Adokorach Foundation, and has been met with nothing short of gratitude from their parents and relatives. "You have lifted a burden from us," she recounts one of the parent's story. She says that among the children, one had completely stopped attending school, but with the intervention of the foundation, the child was able to resume classes comfortably. The foundation has also provided scholastic materials not only to the 5 students it supports, but to more than 20 under privileged students in St. Mbaga School.
Regardless of her Acholi heritage, Anena decided to give back to the community in the Central region, particularly Masaka area. She says, "this is where I attended university. It is only fair that I give back to the community that helped me earn my undergraduate degree."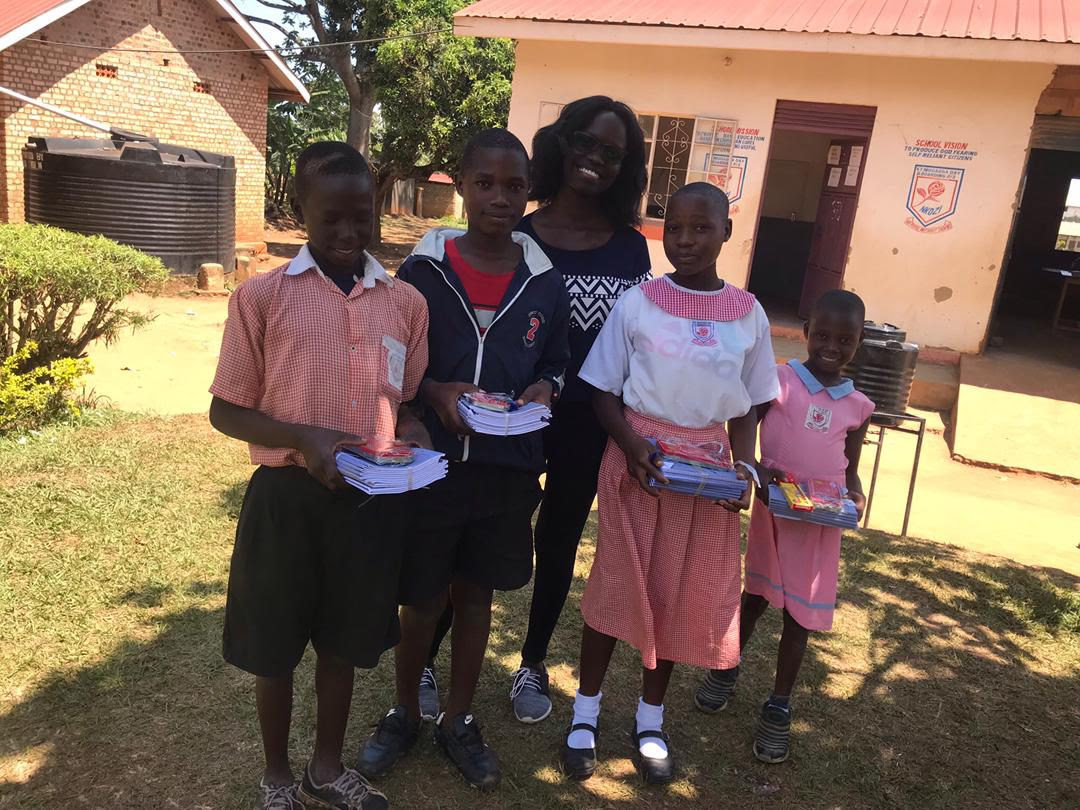 Much as the Adokorach Foundation was birthed from Anena's encounter with the neighborhood kids, she cannot take all the credit. Anena attributes most of the help she gets to her mother. So much that the foundation is actually named after her. Anena says that her mother has supported the foundation both financially and otherwise and has been a great stronghold in seeing to it that the foundation stands.

"My experiences have taught me to put myself in other people's shoes, she says, do not be quick to judge or hate anyone." She encourages young people to volunteer with non profit organizations. "It enables you to surround yourself with like minded people who will help you gain confidence to start and solve a problem. And all it takes is to help one person. It doesn't have to be anything big."

Like Joanita, Uganda Unites is committed to inspiring, equipping and connecting young people to become change agents and make their communities better.

Donate to empower raising the next generation of young leaders championing non-violence and peace in their communities. Come along with us!
Reach out to us on any of our social media platforms for more information
On Twitter @UgandaUnites
On Instagram @ugunites
On Facebook @Uganda Unites

And if you're looking to donate, you can make a contribution via Mobile Money
on +256753256256/ +256777193617 or via Flutterwave on the "Donate now"
link in the upper right corner of this website
Till next time, peace and love!
DONATE